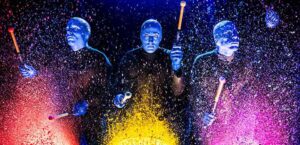 Experience Blue Man Group
BUY TICKETS
Get ready to experience the ultimate sensory overload when our favorite blue bros take the stage and crank up the volume. An audiovisual encounter unlike anything else on the Strip, Blue Man Group at Luxor is fun for the whole family.
The narrators of the Blue Man Group show profess to know a lot about human nature and social evolution, but the three bald and blue stars are oddly oblivious.
Through music, movement and only a little bit of verbal communication, you become a part of this production and swim in the sights and sounds that douse the theater.
The show is good clean fun with a variety of acts and quick-change illusions, but the core of its appeal is the company's signature music, played on far-out, makeshift instruments.
Seriously fun and unconventionally educational, you'll have had a lot of laughs, and have maybe even shaken your caboose.
Go ahead and let your jaw drop open, after all, being consumed by entertainment produced by three blue men is a perfectly acceptable reaction at the Luxor.
BUY TICKETS