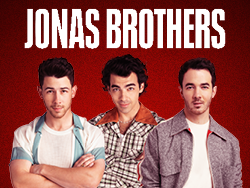 NOVEMBER 10, 11, 12, 2022
SORRY YOU MISSED THE SHOW!

The Jonas Brothers are all grown up and burning up Las Vegas with a residency at the Dolby Live Theater. It's like we've been bitten by the teenage love bug all over again.
This limited-time engagement is coming to Sin City and we're thankful we didn't have to wait until the year 3000 to see them perform together again.
Nick Jonas reached No.1 on the Billboard charts with sultry, sexy tunes like "Jealous" and "Chains" which propelled his image into adulthood. Joe Jonas and his newly-formed band, DNCE, reached No.9 with their hit "Cake by the Ocean." Now they've gotten back together, and their new album of feel-good tunes has us sending out an S.O.S. because we might just die of excitement.
Their first single "Sucker" rocketed the newly-revived band back into the limelight with a No.1 hit on the Billboard Hot 100. The single also went double-platinum the same year and was rated No.1 on the Billboard's Critic Picks list of the "50 Best Songs of 2019."
SORRY YOU MISSED THE SHOW!