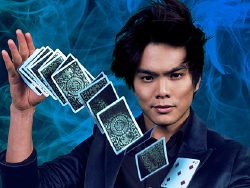 The Magic Of Shin Lim
Things we've learned from YouTube: how to (unsuccessfully) teach a squirrel how to water ski and (also unsuccessfully) how to propagate a succulent. You know what Shin Lim learned from YouTube? How to become a world-class magician! And he's going to show us all what's up when he steps on stage at The Mirage.
Shin Lim's meticulously self-choreographed routines are world-renowned. His dexterity, precision, and dare we say, grace make him a bonafide sleight-of-hand talent.
Not only has he been on "Penn & Teller: Fool Us," but his card manipulating talents were enough to win the 13th season of "America's Got Talent." And the success didn't stop there, because he went on "America's Got Talent: The Champions" and won that too!
Not only is he a wizard with a deck of cards, but he's at the forefront of a new generation of great magicians. Cheap tickets for Shin Lim  are available now. You don't want to miss this.
BUY TICKETS